Go Ryo Go!!
Will 2011 Masters Help Ishikawa
Donate to Japan Relief Fund?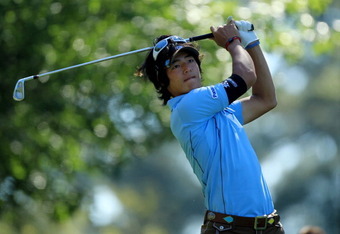 David Cannon/Getty Images
Ryo Ishikawa is a name to root for at the 2011 Masters.
Not only is the 19-year-old a class act, but he has
agreed to donate all of his 2011 PGA earnings to
the Japan Earthquake and Tsunami Relief Fund.
Winning the 2011 Masters could go along ways
in helping his homeland.
Ishikawa finished the first round with a score of 71,
which puts him at -1 following the first 18 holes.
That is good enough for a tie for 24th place along
with Tiger Woods, Fred Couples and three other golfers.
That means that Ishikawa still has some work left to do
if he hopes to move up the leaderboard at Augusta, which
will also move him up the money list.
Following the worst earthquake and tsunami to hit Japan,
things have not gotten any easier. After Ishikawa finished
his first round, he was dealt more devastating news,
as northeastern Japan was hit with an aftershock of
a 7.1 magnitude earlier in the day.
With all of that going on, it must be extremely difficult
to focus on golf. It would be for many 19-year-olds,
but this kid is special. He is mature far beyond his years,
and he continues to show his class, maturity and
unselfishness.
According to Joe Juliano of the Philadelphia Inquirer,
Ishikawa could wind up donating a lot of money to
the relief fund in Japan.
"Ishikawa already has pledged every dollar of his
winnings in 2011 to the relief effort in his country,
which would be close to $2 million if he equaled
his earnings of last year," says Juliano.
"Even though his heart is there, he believes
he can inspire his countrymen by playing well."
Juliano also wrote what Ishikawa said through
his translator.
"I understand that people, especially in Sendai,
they are living in hell," Ishikawa said, "and
I would love to show the energy and power of what
golf can bring to those people."

Ishikawa is scheduled to tee off at 1:04 PM on Friday
afternoon in the second round, and he will look to
put up another solid score to remain in the hunt
at Augusta this weekend.
If you love the sport of golf, and especially enjoy
watching the Masters without a rooting interest,
this would be the time to put your support
behind Ishikawa. It is a great story.